Isuzu
Worldwide
[06.2013]
Spare parts catalog for Isuzu Passenger and commercial vehicles.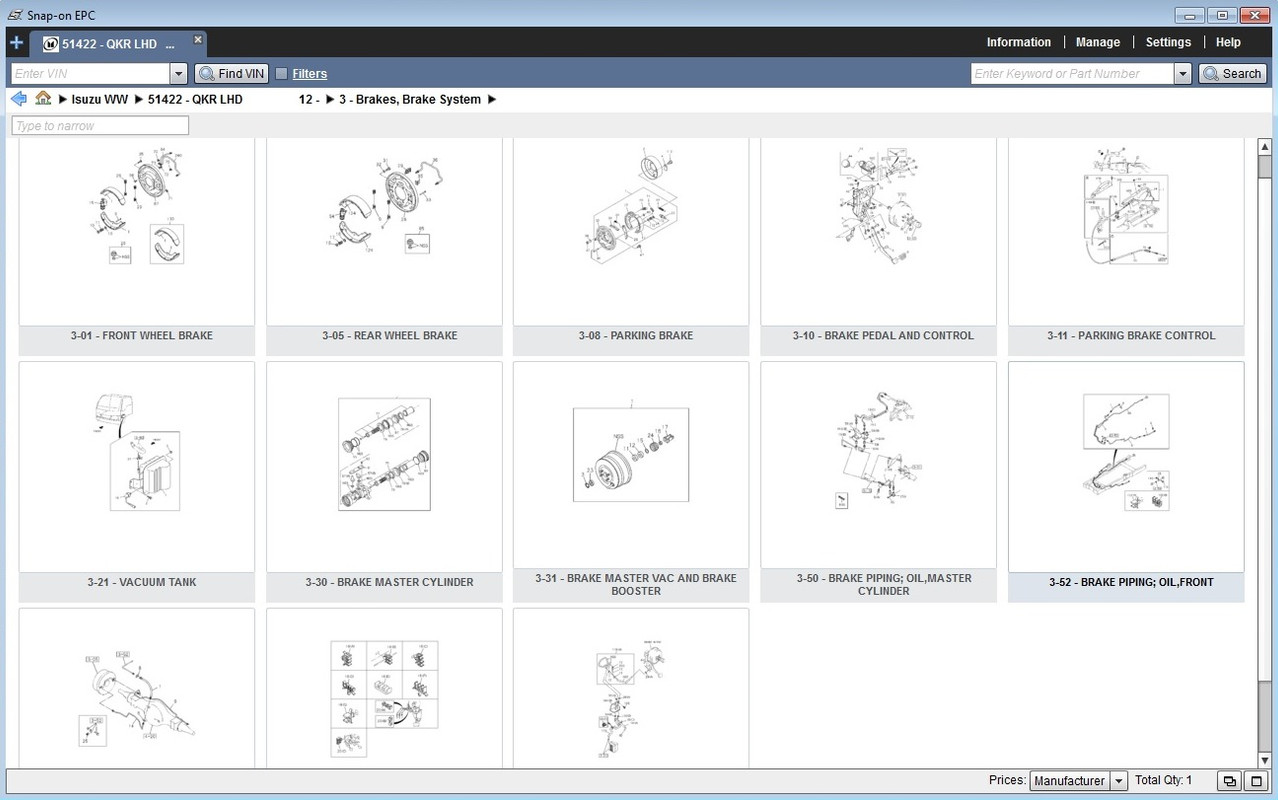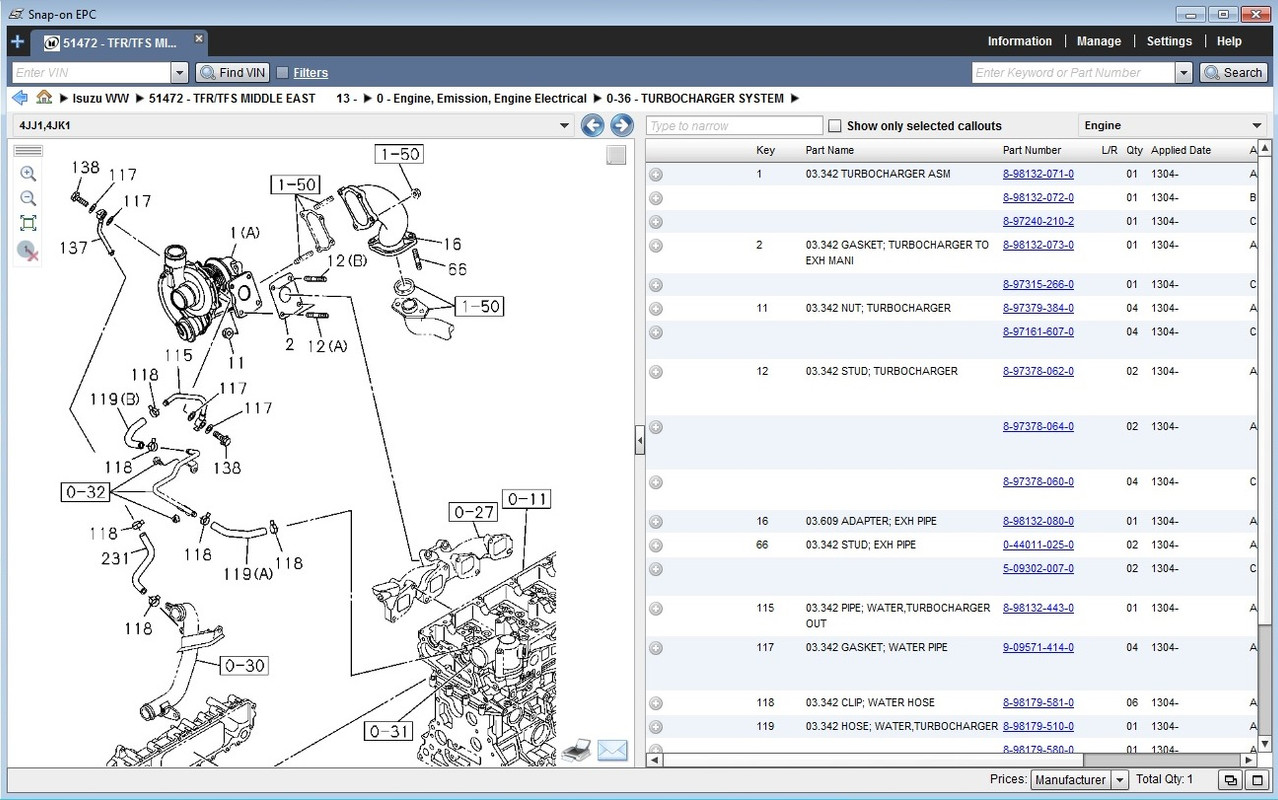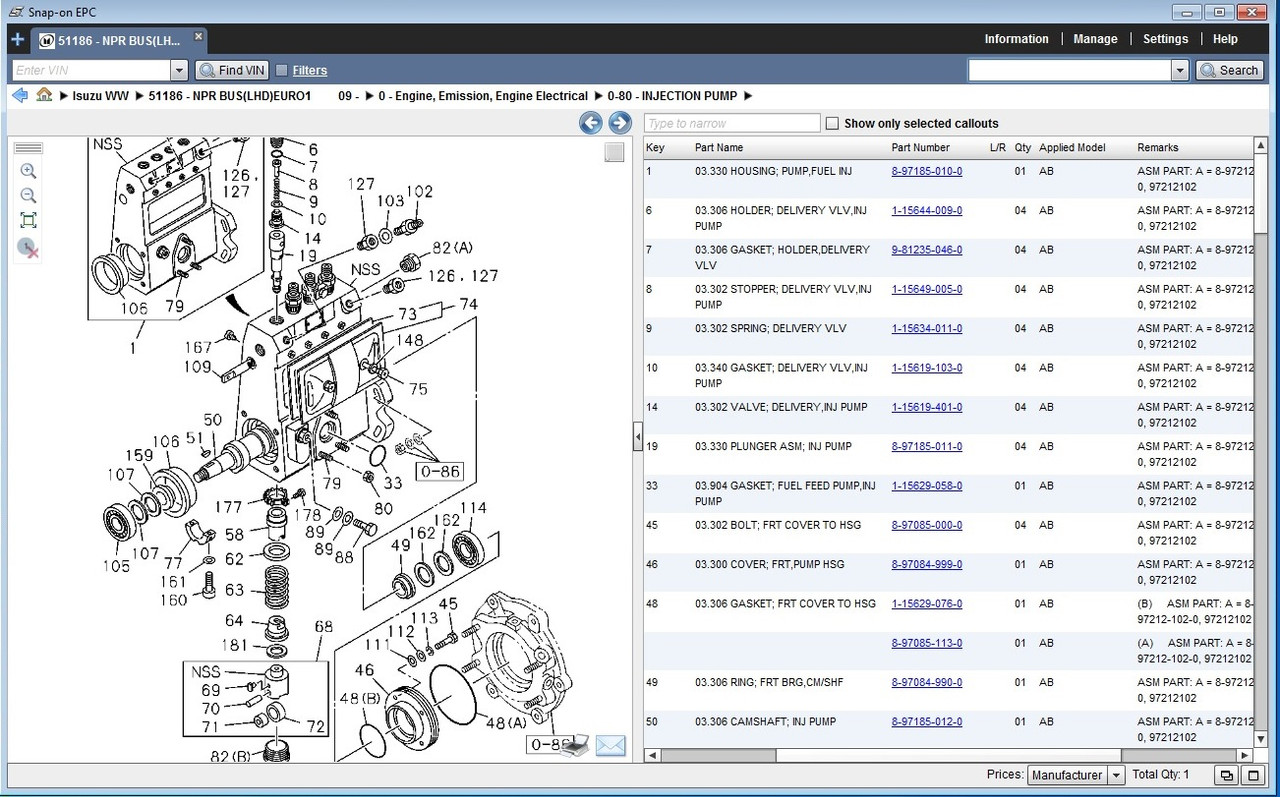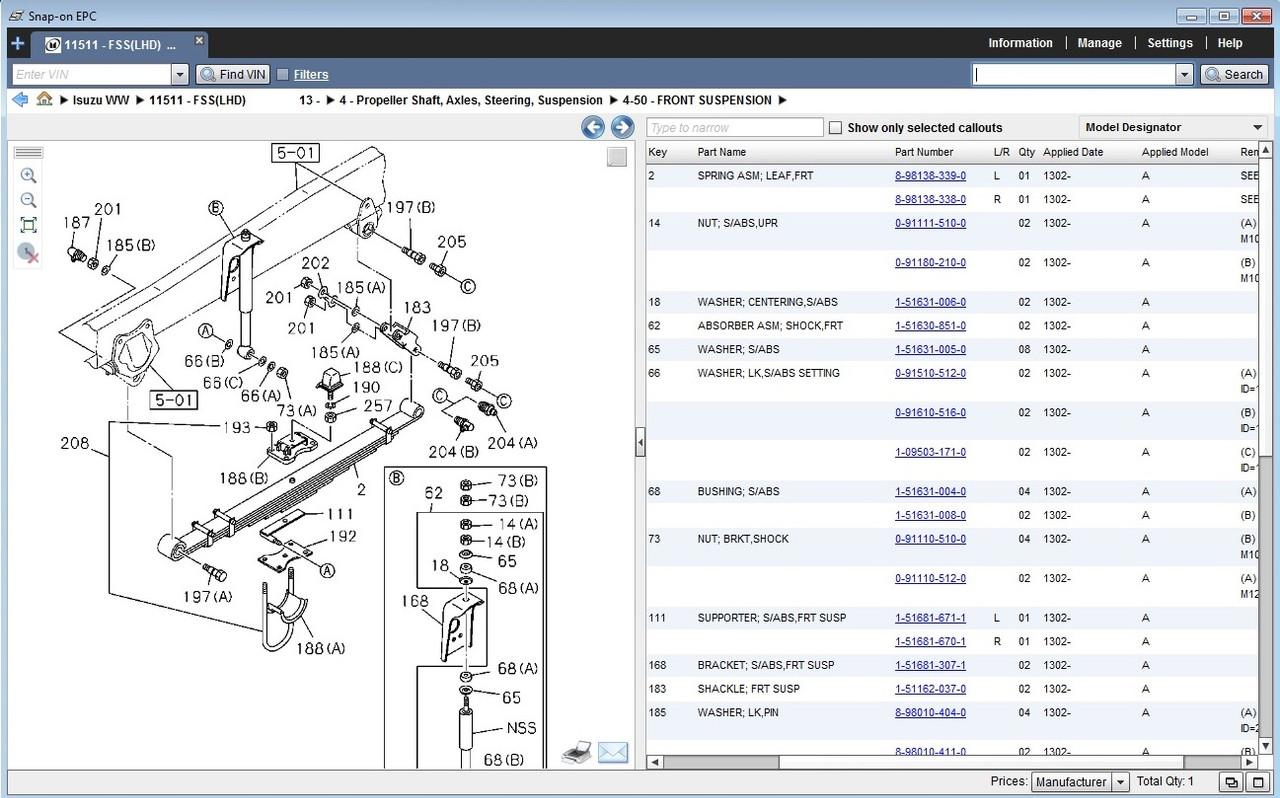 Quote:Region: ALL Region
Languages: English, German, Italian, Spanish, French
Type: Spare parts catalog
OS: WinXP, Win7, Win8
Year: 2013
Date of Update: 06.2013
CD/DVD: 2 DVD's DL
License: High
Electronic catalog Isuzu WorldWide contains information on all automobiles of firm, including trucks and buses, also contains information on stationary and industrial diesel engines (single directory).

Isuzu company is a world leader in the design and manufacture of diesel engines, so the production is very common Isuzu under the hood of many European automakers. ISUZU WorldWide works on VIN or model, a transcript of each position VIN, search by number, name.
ISUZU Worldwide (excluding USA and Japan markets) electronic spare parts catalogue
Features:
Quote:VIN decoding and filtering
Vehicle-specific parts information
Part name and part number searches
Print high-quality text and illustrations
Zoom features
Models and group indexes
MODEL LIST:
Code:
CVR  90 - 95
CVR-LHD    96 - 00
CVR-LHD    01 -
CXH-RHD    86 - 95
CXH-RHD    96 - 00
CXH-RHD    01 - 04
CXH-RHD    03 - 06
CXH/CYH(NEW ZEALAND) 04 -
CXH-LHD    01 - 05
CXJ-RHD    03 - 04
CXY51-RHD(AUSTRALIA) 01-05
CXY(AUSTRALIA) 06 -
CXY(AUST)JNLT05/EU5 08 -
CYH(LHD)W/2STEPS 06 -
?YH(L)EU2/3/4 W/3STEP 10 -
CYH(MIDEAST)W/2STEPS 06 -
CYH(MIDEAST)W/3STEPS 10 -
CYH(NZ)JAPAN02/04 08 -
CYH(NZ)EURO4/JNLT05 09 -
CXZ-RHD    90 - 95
CXZ-RHD    96 - 00
CXZ-RHD    01 - 04
CXZ-RHD    03 - 06
CXZ/CYZ(NEW ZEALAND) 04 -
CXZ-RHD 10P TWN VERT 01 - 02
CXZ-RHD(SINGAPORE) 00 -
CXZ51-RHD(AUSTRALIA) 01 - 05
CXZ(AUSTRALIA) 06 -
CXZ/CYZ(R)JNLT05/EU5 08 -
CXZ-LHD(S-CAM BRAKE) 01 - 04
CXZ-LHD(WEDGE BRAKE) 05 -
CXZ-LHD(CHINA) 00 - 03
CXZ(CHINA)  05 -
CXM/CXZ-LHD    90 - 95
CXM/CXZ-LHD    96 - 00
CXM-LHD    01 - 06
CYH(RHD)EURO4 07 -
CYH(RHD)EURO5 10 -
CYJ(RHD)EURO5 13 -
CYJ(NEW ZEALAND) 05 -
CYJ(NZ)JAPAN02/04 08 -
CYJ(NZ)EURO4/JNLT05 09 -
CYM(LHD)  07 -
CYZ-RHD    06 -
CYZ(RHD) EURO4 07 -
CYZ(RHD) EURO5 10 -
CYZ(LHD)W/2STEPS 06 -
CYZ(L)EU2/3/4W/3STEP 10 -
CYZ(MIDEAST)W/3STEPS 10 -
CYZ(LHD)EURO4 07 -
CYZ(LHD)EURO5 13 -
CYZ(MIDEAST)W/2STEPS 06 -
CYZ(NZ)JAPAN02/04 08 -
CYZ(NZ)EURO4 09 -
EXD(RHD)EURO4 07 -
EXD(RHD)EURO5 10 -
EXD-RHD F/T 400,200L 01 - 06
EXD(AUSTRALIA) 06 -
EXD(AUST)JNLT05 08 -
EXD-LHD F/T 400L 01 - 06
EXR-RHD    90 - 95
EXR-RHD    96 - 00
EXR(RHD)EURO4 07 -
EXR(RHD)EURO5 10 -
EXR-RHD F/T 200+200L 01 - 04
EXR-RHD F/T 400L 01 - 04
EXR-LHD    90 - 95
EXR-LHD F/T 200L 96 - 00
EXR F/T 400L 99-00
EXR-LHD F/T 400L 01 - 06
EXR-LHD F/T 200+200L 01 - 05
EXR-LHD F/T400(+400) 01 - 04
EXR(LHD)EURO4W/2STEP 07 -
EXR(L)EU2/3/4W/3STEP 10 -
EXR(MIDEAST)W/2STEPS 06 -
EXR(MIDEAST)W/3STEPS 10 -
EXR-LHD WEDGE BRAKE 06 - 09
EXY-RHD    00 -
EXY(NEW ZEALAND) 04 -
EXY(NZ)JAPAN02/04 08 -
EXY(NZ)EURO4 09 -
EXY(AUST)JNLT05 08 -
EXY(SOUTH AFRICA) 08 -
EXY(RHD)HYD-RETARDER 08 -
EXZ    90 - 95
EXZ(RHD)EURO4 07 -
EXZ(RHD)EURO5 10 -
EXZ F/T 200L,300L 96 - 00
EXZ-RHD F/T 400L 99 - 00
EXZ-RHD F/T 400L 01 - 04
EXZ-RHD F/T 200+200L 01 - 06
EXZ-RHD F/T400(+400) 01 -
EXZ(NEW ZEALAND) 04 -
EXZ(NZ)JAPAN02/04 08 -
EXZ-LHD F/T 400L 99 - 00
EXZ-LHD F/T 400L 01-
EXZ-LHD F/T200+200L 01 - 05
EXZ-LHD F/T400(+400) 01 - 05
EXZ-LHD WEDGE BRAKE 06 -
EXZ(LHD)EURO4W/2STEP 07 -
EXZ(L)EU2/3/4W/3 STEP 10-
EXZ(MIDEAST)W/2STEPS 06 -
EXZ(MIDEAST)W/3STEPS 10 -
FRR(RHD)EURO1 11 -
FRR(RHD) EURO4 07 -
FRR(RHD)EXC. EURO3 96 - 06
FRR-R S-CAB EURO2/4 08 - 12
FRR-R S-CAB EURO2/4 13 -
FRR-R S-CAB EURO5 11 -
FRR-R S-CAB EU4 DOC 11 -
FRR(AUST)EURO4 SPACE 08 -
FRR(AUST/NZ)EU5 SPAC 11 -
FRR-R EU2/4EXC.SPACE 08 - 12
FRR-R EURO2 EXC.SPAC 13 -
FRR-R EU5 EXC.SPACE 09 -
FRR(AUST)EU4 EXC.SPA 08 -
FRR(AUST/NZ)E5 EXC.S 11 -
FRR34(RHD)    01 -
FRR-RHD(EU)SPACE EU4 09 -
FRR-RHD(EU)SPACE EU5 10 -
FRR(THAI)    08 -
FRR(INDONESIA) 11 -
FRR(LHD) EURO4 07 -
FRR(LHD) EXC.EURO4 96-
FRR-L EU2/4 EXC.SPAC 08 - 12
FRR-L EURO2 EXC.SPAC 13 -
FRR-L EURO5 EXC.SPAC 13 -
FRR(LHD)SPACECAB 08 - 12
FRR(LHD)SPACECAB 13 -
FRR-L SPACE EU4 DOC 11 -
FRR-LHD(EU)SPACE EU4 09 -
FRR-LHD(EU)SPACE EU5 10 -
FRR SCAB S.AFRICA 09 -
FRR EXC.SCAB S.AFRICA 09 -
FRR(MIDEAST) 96 - 03
FRR(MIDEAST)6H ENG 04 -
FRR(MIDEAST)4H ENG 08 -
FRR/FSR/FRD(AUST) 00 -
FRR/FVR(TAIWAN) 98 - 07
FRR-G/FSR/FTR TAIWAN 99 - 06
FSR-RHD    92-95
FSR(RHD) EURO4 07 -
FSR-R EU2/4EXC.SPACE 08 - 12
FSR-R EU2/4EXC.SPACE 13 -
FSR-R W/DOC EXC.SPACE 11 -
FSR-R EU5 EXC.SPACE 09 -
FSR32,33(RHD) 96 -
FSR(RHD)EURO1 11 -
FSR-R(EU)EU4 EXC.SPACE 09 -
FSR-R(EU)EU5 EXC.SPACE 10 -
FSR-RHD(EU)SPACE EU4 09 -
FSR-RHD(EU)SPACE EU5 10 -
FSR(AUST)EU4 EXC.SPACE 08 -
FSR(AUST/NZ)EURO5 11 -
FSR34(RHD)    01 -
FSR(CNG)AUSTRALIA 09 -
FSR(SOUTH AFRICA) 09 -
FSR(MALAYSIA)W/B4200 97 - 11
FSR(MALAYSIA)W/B5500 04 - 11
FSR-LHD    93 - 95
FSR(LHD) EXC.EURO4 96-
FSR(LHD)EURO1 11-
FSR(LHD) EURO4 07-
FSR(LHD) 08-12
FSR(LHD)    13-
FSR-LHD(EU)SPACE EU4 09 -
FSR-LHD(EU)SPACE EU5 10-
FSR(MIDEAST) 96 - 07
FSR(MIDEAST) 08 -
FSR-LHD(BUS CHASSIS) 96 -
FSS/FTS-RHD    92 - 95
FSS/FTS-RHD    96 -
FSS(RHD)EURO2/4 08 - 12
FSS(RHD)EURO2 13 -
FSS(RHD)EURO1 12 -
FSS(AUST)EURO4 08 -
FSS(AUST/NZ)EURO5 11 -
FSS/FTS-LHD    92 - 96
FSS/FTS-LHD    96 -
FSS(LHD)    08 - 12
FSS(LHD)    13 -
FTS(LHD)    08 - 12
FTS(LHD)    13 -
FSS/FTS(AUSTRALIA) 00 -
FSS(MALAYSIA)M/T 06 -
FSS(MALAYSIA)A/T 01 -
FSS(BANGLADESH) 00 -
FTS(SOUTH AFRICA) 09 -
FTS(MALAYSIA) 00 -
FTS(MIDEAST) 98 - 07
FTS(MIDEAST) 08 -
FTR-RHD    92 - 95
FTR(RHD) EURO4 07 -
FTR(RHD)EXC. EUR03 96 - 06
FTR-RHD EURO2/4 08 - 12
FTR-RHD EURO2 13 -
FTR-RHD EURO5 09 -
FTR(AUST)EURO4 08 -
FTR(AUST/NZ)EURO5 11 -
FTR34(RHD)    01 -
FTR(THAI)    00 - 03
FTR(THAI)EURO2 04 - 08
FTR(THAI)EURO3 08 -
FTR CNG(THAILAND) 09 -
FTR(IDN)WB3600/4200 97 - 04
FTR(INDONESIA)WB4600 04 - 06
FTR(INDONESIA)6HH1 07 -
FTR(INDONESIA)4HK1 11 -
FTR(MALAYSIA)W/B6000 02 -
FTR(MALAYSIA)W/B4600 04 -
FTR-LHD    92 - 95
FTR(LHD) EURO4 07 -
FTR(LHD) EXC.EURO4 96 -
FTR(LHD)    08 - 12
FTR(LHD)    13 -
FTR(LHD)EURO4 W/DOC 11 -
FTR BUS CHASSIS LHD 99 -
FTR SOUTH AFRICA 09 -
FTR(MIDEAST) 96 -
FTR(AUSTRALIA) 00 -
FTS(RHD)EURO2/4 08 -
FTS(RHD)EURO2 13 -
FTS(RHD)EURO1 12 -
FTS(AUST)EURO4 08 -
FTS(AUST/NZ)EURO5 11 -
FTS(THAI)    09 -
FTS(PAKISTAN)S-TIRE 10 -
FTS(PAKISTAN)D-TIRE 10 -
FVM-RHD    92 - 95
FVM-RHD    96 -
FVM(RHD) 08 - 12
FVM(RHD) 13 -
FVM(AUST)EURO4 08 -
FVM(AUST/NZ)EURO5 11 -
FVM(THAI)    01 - 03
FVM(THAI)EURO2 04 - 08
FVM(THAI)EURO3 08 -
FVM CNG(THAILAND) 11 -
FVM(INDONESIA)WB5300 97 - 04
FVM(INDONESIA)WB6300 04 - 06
FVM(INDONESIA)6SD1 07 -
FVM(INDONESIA)6HK1 11 -
FVM(SOUTH AFRICA) 09 -
FVM/FVZ-LHD    00 -
FVM(LHD)    08 - 12
FVM(LHD)    13 -
FVR-RHD    92 - 95
FVR(RHD)EURO1 11 -
FVR(RHD) EURO4 07 -
FVR(RHD)W/DOC EURO4 11 -
FVR/GVR-RHD    96 -
FVR/GVR-RHD EURO2/4 08 - 12
FVR/GVR-RHD EURO2/4 13 -
FVR-RHD EURO5 09-
FVR-RHD(EUROPE)EURO4 09 -
FVR-RHD(EUROPE)EURO5 10 -
FVR/GVR(AUST)EURO4 08 -
FVR(AUST/NZ)EURO5 11 -
FVR(HONG KONG) 96 -
FVR(SOUTH AFRICA) 09 -
FVR(INDONESIA) 11 -
FVR(MALAYSIA) 240PS 12 -
FVR(MALAYSIA) 280PS 13 -
FVR-LHD    92 - 95
FVR(LHD)EURO1 11 -
FVR(LHD) EXC.EURO4 96 -
FVR/GVR-L EURO2/3/4 08 - 12
FVR/GVR-L EURO2/3/4 13 -
FVR(LHD) EURO5 13 -
FVR(LHD)EURO4 W/DOC 11 -
FVR-LHD(EUROPE)EURO4 09 -
FVR-LHD(EUROPE)EURO5 10 -
FVR-LHD(BUS CHASSIS) 01 -
FVR(MIDEAST) 96 - 07
FVR(MIDEAST) 08 -
FVR(IRAN) 11-
FVZ-RHD    92 - 95
FVZ-RHD    96 -
FVZ(RHD) 08 - 12
FVZ(RHD) 13 -
FVZ(AUST)EURO4 08 -
FVZ(AUST/NZ)EURO5 11 -
FVZ(THAI)    03 - 03
FVZ(THAI)EURO2 04 - 08
FVZ(THAI)EURO3 08 -
FVZ(INDONESIA) 11 -
FVZ(LHD)    08 - 12
FVZ(LHD)    13 -
FVZ(LHD)W/D?? EURO4 12 -
FVZ SOUTH AFRICA 09 -
FVZ(MIDEAST) 00 - 10
FV/GV(AUSTRAL)A.SUS 00 -
FV/GV(AUSTRAL)L.SUS 00 -
FXR/GXR EXC.EURO5 08 -
GXR(RHD)EURO3 13 -
FXR(RHD)EURO5 10 -
GXR(RHD)EURO5 13 -
FXR/GXR(AUST)JNLT05 08 - 12
FXR/GXR(AUST)EURO5 11 -
FXR/GXR SOUTH AFRICA 10 -
FXM EXC.EURO5 08 -
FXM (AUST)EUR?5 11 -
FXZ EXC.EURO5 08 -
FXZ/GXZ(RHD)EURO3 13 -
FXZ(RHD)EURO5 10 -
FXZ(AUST)JNLT05 08 - 12
FXZ(AUST)EURO5 11 -
FXZ(THAI) 03 - 03
FXZ(THAI)EURO2 04 - 08
FXZ/GXZ(THAI)EURO3 08 - 12
FXZ/GXZ(THAI)EURO3 13 -
FXZ(INDONESIA) 97 - 04
FXZ SOUTH AFRICA 10 -
FYH(RHD)EURO5 10 -
FYH(AUST)EURO5 13 -
FYH(THAILAND)EURO3 11 -
FORWARD800(MEXICO) 11 -
FORWARD1200(MEXICO) 11 -
FORWARD1500(MEXICO) 11 -
GTR(INDONESIA) 04 - 06
GVR(THAI)EURO3 08 -
GVR CNG(THAILAND) 09 -
GXZ(THAI) 02 - 03
GXZ(THAI)EURO2 04 - 08
GXZ CNG(THAI)EURO3 12 -
LT 111,112,132,133 91 -
LT134-RHD EURO4 07 -
LT134(RHD)EURO2/5 09 -
LT134-RHD EXC.EURO4 01 -
LT134(LHD) EURO4 07 -
LT134(LHD) EURO2/3 09 -
LT(TAIWAN)    98 - 06
LV123/150/423-RHD 01 -
LV123/150-LHD 01 -
LV123/423-LHD 04 -
LV233(THAI)    98 -
LV280(THAI)    97 -
LV423(THAI) BMTA 01 -
LV434(RHD) EURO4 07 -
LV434(RHD) EURO3/5 09 -
LV434(LHD) EURO4 07 -
LV434(LHD) EURO3 09 -
LR COMPOPARTS TURKEY 09 -
6HK1 COMPO(MALAYSIA) 12 -
CHR/CJR/CQR    90 - 99
MR    91-95
MR-LHD    00 -
MT133-RHD    05 -
MT111,112    91 - 04
MT(THAI)    91 - 94
MV118    95 -
MV123(RHD)    01 -
NHR    94 - 98
NHR    99 - 02
NHR    03 -
NHREUR04    07 -
NHR(RHD)EURO4 W/DOC 12 -
NHR    08-
NHR(MALAYSIA) 97 -
NHR(INDONESIA) 03- 05
NHR(MIDDLE EAST) 03 - 05
NKR-RHD    94 - 98
NKR-RHD    99 - 02
NKR(RHD)EXC.EURO4 03 -
QKR-RHD    11 -
QKR RHD    12 -
NKR AUSTRALIA 03 - 06
NKR INDONESIA 03 - 08
NKR(RHD)EURO4 07 -
NKR(IRAN)    06 -
NKR(SOUTH AFRICA) 03 - 06
NKR(THAILAND) 99 - 02
NKR(THAILAND) 03 - 04
NKR(THAILAND) 05 -
NKR(MALAYSIA) 97 -
NLR/NMR 55,85(RHD) 08 - 10
NLR/NMR 55,71,85(RHD) 11 -
NMR85(RHD)EURO5 09 -
NLR 85(AUST) 08 - 08
NL/NMR85 EU5 AUST/NZ 11 -
NLR CNG-RHD    09 -
NKR(EUROPE}-RHD 99 - 02
NKR(EUROPE)-RHD 04 -
NLR/NMR(EU)-RHD EU4 09 -
NLR/NMR(EU)-RHD EU5 10 -
NLR/NMR(SOUTH AFRICA) 08 -
NLR/NMR(THAILAND) 08 -
NLR/NMR(INDONESIA) 08 -
NMR 85 (MIDDLE EAST) 08 -
NMR 71 (MIDDLE EAST) 09 - 10
NMR (MIDDLE EAST) 11 -
NMR CNG (THAILAND) 09 -
NKR-LHD    94 - 98
NKR-LHD    99 - 02
NKR 55,66,69,71,77 LHD 03-
QKR-LHD    11 -
QKR LHD    12 -
QKR (MIDDLE EAST) 11 -
NKR MIDDLE EAST 03 - 08
NKR85(LHD)    07 -
NKR-LHD    12 -
NLR/NMR 55,85(LHD) 08 - 10
NLR/NMR 55,85(LHD) 11 -
NLR/NMR 85(LHD)EURO4 11 -
NLR85(LHD)    09 -
NMR 85(RHD)EURO4 12 -
NKR(EUROPE)-LHD 99 - 02
NKR(EUROPE)-LHD 04 - 07
NLR/NMR(EU)-LHD EU4 09 -
NLR/NMR(EU)-LHD EU5 10 -
NLS(EUROPE)LHD 09 -
NMR71-LHD    09 -
NLS-RHD    09 -
NLS(EUROPE)RHD 09 -
NMR71-RHD    09 -
NPR(IRAN)    04 -
NQR(IRAN)    05 -
NQR(INDONESIA) 03 -
NPR/NQR-RHD    94 - 98
NPR/NQR-RHD    99 - 02
NPR/NQR RHD EXC.EURO4 03 -
NPR/NQR(RHD) EURO4 07 -
NPR/NQR(RHD) EURO1 09 -
NN/NP/NQR-R EXC.EU5 08 - 10
NN/NP/NQR(RHD)EURO4 12 -
NPR/NQR-RHD    11 -
NQR INDONESIA 12 -
NQR AIR BRAKE RHD 12 -
NP/NQR(LHD)EU4 W/DOC 10 -
NN/NP/NQR-RHD EURO5 09 -
NPR/NQR (AUST) 03 - 05
NNR/NPR/NQR(AUST) 03 -
NN/NP/NQR EU5 AUS/NZ 11 -
NPR CNG-RHD    09 -
NPR/NQR(THAILAND) 00 - 02
NPR/NQR(THAILAND) 03 - 04
NPR/NQR(THAILAND) 05 -
NPR(BUS CHAS)RHD 02-
NPR/NQR(EUROPE)-RHD 99 - 02
NPR/NQR(EUROPE)-RHD 04 -
NNR/NPR EU-R EXC.EU5 09 -
NNR/NPR EU-RHD EUR05 10 -
NPR/NQR(SOUTH AFRICA) 03 - 06
NPR/NQR(SOUTH AFRICA) 08 -
NPR/NQR(THAILAND) 08 -
NQR BUS CHAS(THAI) 07 -
NPR CNG(THAILAND) 09 -
NPR(MALAYSIA) 97 -
NPR/NQR-LHD    94 - 98
NPR/NQR-LHD    99 - 02
NN/NP/NQR-LHD EXC.EU1 08 - 10
NNR/NPR/NQR(LHD) 11 -
NP/NQR AIR BRAKE LHD 12 -
NPR/NQR(LHD) EURO4 07 -
NPR/NQR(MIDDLE EAST) 03 - 07
NPR/NQR(MIDDLE EAST) 08 - 10
NPR(MIDDLE EAST) 09 - 09
NPR/NQR(MIDDLE EAST) 11 -
NPR(IRAN)    12 -
NPR/NQR(LHD) EURO1 09-
NPR(LHD) EURO5 09 -
NPR CNG-LHD    10 -
NP/NQR BUS(LHD) EURO4 07 - 07
NPR/NQR LHD EXC.EURO4 03 -
NP/NQ BUS LHD EXC.EU4 01 -
NPR BUS(LHD) 08-10
NPR BUS CHASSIS(LHD) 11-12
NPR BUS CHASSIS(LHD) 13 -
NQR BUS AIR BRAKE LHD 12 -
NPR BUS(LHD)EURO1 09 -
NPR BUS CNG(LHD) 11 -
NPR/NQR(EUROPE)-LHD 99 - 02
NPR/NQR(EUROPE)-LHD 04 -
NNR/NPR EU-L EXC.EU5 09 -
NNR/NPR(EU)-LHD EU5 10 -
NPR(BUS CHAS)RHD 08 - 10
NPR(BUS CHAS)RHD 11 -
NQR BUS AIR BRAKE RHD 12 -
NPR BUS(RHD)EURO1 09 -
NPS-RHD    94 -
NPS-RHD    07 -
NPS-RHD    08 - 10
NPS-RHD    11 -
NPS(RHD) EURO1 09 -
NPS(AUSTRALIA) 03 - 07
NPS(AUST)    08 - 08
NPS EURO5 AUST/NZ 11 -
NPS INDONESIA 03 - 07
NPS INDONESIA 08-
NPS-LHD    05 - 07
NPS-LHD    08 - 10
NPS(LHD)    11 -
NPS(LHD)EURO1 09 -
NPS(SOUTH AFRICA) 08 -
ELF300(MEXICO) 07 - 08
ELF200/300(MEXICO) 09 - 10
ELF200/300(MEXICO) 11 -
ELF400/450(MEXICO) 06 - 08
ELF400/500/600/BUS 09 -
TBR(INDONESIA) 91 - 96
TBR(INDONESIA) 00 - 04
TBR-LHD    01 - 06
TBR (GM-INDONESIA) 02 -
TBR-PICKUP INDONESIA 07 -
TBR-WAGON(INDONESIA) 07 -
TBR-LHD    07 -
TFR/TFS-RHD    93 - 96    
TFR/TFS-RHD    97 - 98    
TFR/TFS-RHD    99 - 03    
TFR/TFS-RHD    04 - 08    
TFR/TFS-RHD    09 - 11    
TFR/TFS-RHD    12 - 12    
TFR/TFS-RHD    13 -        
TFR/TFS-LHD    93 - 96    
TFR/TFS-LHD    97 - 98    
TFR/TFS-LHD    99 - 03    
TFR/TFS-LHD    04 - 11    
TFR/TFS-LHD    12 - 12    
TFR/TFS-LHD    13 -        
TFR/TFS(EUROPE)-RHD    02 - 03
TFR/TFS(EUROPE)-RHD    04 -
TFR/TFS(EUROPE)-RHD    12 - 12
TFR/TFS(EUROPE)-RHD    13 -    
TFR/TFS(EUROPE)-LHD    97 - 98
TFR/TFS(EUROPE)-LHD    99 - 03
TFR/TFS(EUROPE)-LHD    04 -
TFR/TFS(EUROPE)-LHD    12 - 12
TFR/TFS(EUROPE)-LHD    13 -
TFR/TFS(AUSTRALIA)    03 -
TFR/TFS CHEV HOLDEN 08 -
TFR/S GM MIDDLE EAST 07 -
TFR/TFS MIDDLE EAST 04 - 11
TFR/TFS MIDDLE EAST 12 - 12
TFR/TFS MIDDLE EAST 13 -
TFR/S(CHEVROLET)THAI 05 -
TFR/S(THAILAND) 01 - 02
TFR/TFS(THAILAND) 03 - 11
TFR/TFS(THAILAND) 12 -
TFR/TFS THAI-RUNG 03 -
UBS-RHD    92 - 97
UBS-RHD    98 - 02
UBS-LHD    92 - 97
UBS-LHD    98 - 02
UBS (TAIWAN )-LHD 98 -
UES(4DOOR)-LHD 98 -
UES(AUSTRALIA) 99 -
UC-LHD    93 - 97
UCR/UCS-LHD    05 -
UCR/UCS(THAILAND) 05 -
UCS(THAILAND) 01 - 04
WFR-RHD    94 - 95
WFR-LHD    94 - 95
TORRENT FILE|

Single Extraction

|

Real Screen Shots
Password:
auto-epc.org