02-08-2023, 09:09 AM (This post was last modified: 09-13-2023, 11:08 PM by motorstate.)
Remote Install - JCB Parts Plus, Service Parts Pro, Service Manuals, ServiceMaster Diagnostic, ServiceMaster Unlock Key Generator, JCB Security Unlock Key Calculator
JCB ServiceMaster 4 08.2023 - $155
JCB ServiceMaster 4 2020 Unlock Key Generator (Normal, High Security, WinEEM4) lifitime - $155
JCB ServiceMaster 4 21.9.3 10.2021 - $99
JCB ServiceMaster 4 20.8.2 2020 - $55
JCB ServiceMaster 4 is diagnostic software, which contains complete information for diagnostics and calibration of agricultural machinery and engines company JCB.
JCB ServiceMaster Unlock Key Generator 2020 (Normal, High Security, WinEEM4) lifetime - $199
Allows you to calculate response values for security unlock for all facilities in ServiceMaster 2 and 4 programs along with security parameters: reset EMS hours, change the speed limit, and many more.
JCB ServiceMaster Files Unpacker - $350
Unpacks *.jcbs files-firmwares, recalculates the signature for unpacked and modified files so that they can be flashed via ServiceMaster.
JCB SISU Power WinEEM4 Service Tool 2.7.2 - $199
Diagnostic software for JCB construction, agricultural machines, and engines.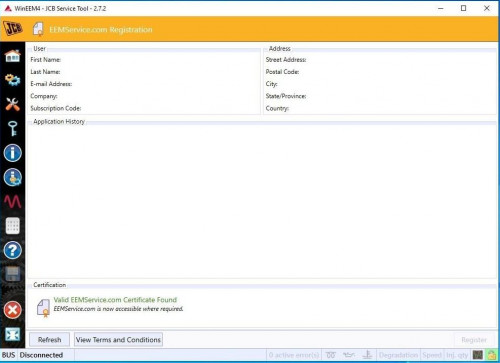 JCB Parts Plus+ 2016 - $65
JCB parts catalog is original spare parts and repairs and maintenance for construction equipment, loaders, engines. The catalog contains spare parts, repairs, maintenance for all construction equipment. The catalog includes crawler excavators, wheel excavators, telescopic handlers, backhoe loaders, frontal loaders, mini loaders, and other construction equipment.
[BBvideo=560,315]https://www.youtube.com/watch?v=oDZ5VKEvNF0[/BBvideo]
JCB Service Parts Pro 2015 - $59
JCB Service Parts Pro is the original catalog for the selection of spare parts for all JCB equipment. The JCB spare parts catalog includes wheeled and tracked excavators, mini excavators, loaders, tractors, mini tractors, etc.
JCB 8055, 8065 Mini Excavator Service Repair Manual - $39
JCB Service Manuals 2017 - $29 (you need to have installed JCB Service Parts Pro or JCB Parts Plus)
JCB Compact Service Manuals is the factory documentation for the maintenance and repair, wiring diagrams of all JCB equipment, as well as engines that are installed on JCB equipment (Isuzu, Deutz, Cummins).
JCB Security Unlock Key Calculator 0.2 (with USB dongle) - $765



Need it? Write to me for details
.
I can help install. Click 
 the link
VAG - ODIS ETKA ELSA

BMW - ISTA E-Sys

Mercedes - Xentry HHTWin Vediamo Monaco

Porsche - Piwis

Activation Launch

Volvo, MAN, DAF, Cummins, and others